Home
»
Virtual Memorial Walls
Virtual Memorial Walls
Jei has two options available. Please scroll down to see all the available options we are glad to provide to you and your needs!
Option #1 - Virtual Memorial Wall - Powered by Yahrzeit Interactive
Honor your loved ones and tell their story with a virtual memorial wall.
Yahrzeit Interactive is a modern memorial display designed to enrich yahrzeit observance in your synagogue. Our interactive touchscreen is an attractive piece of synagogue artwork featuring dozens of gorgeous backgrounds, personalized biographies and more. Each week your congregation's yahrzeits will automatically appear and members can search for their loved ones.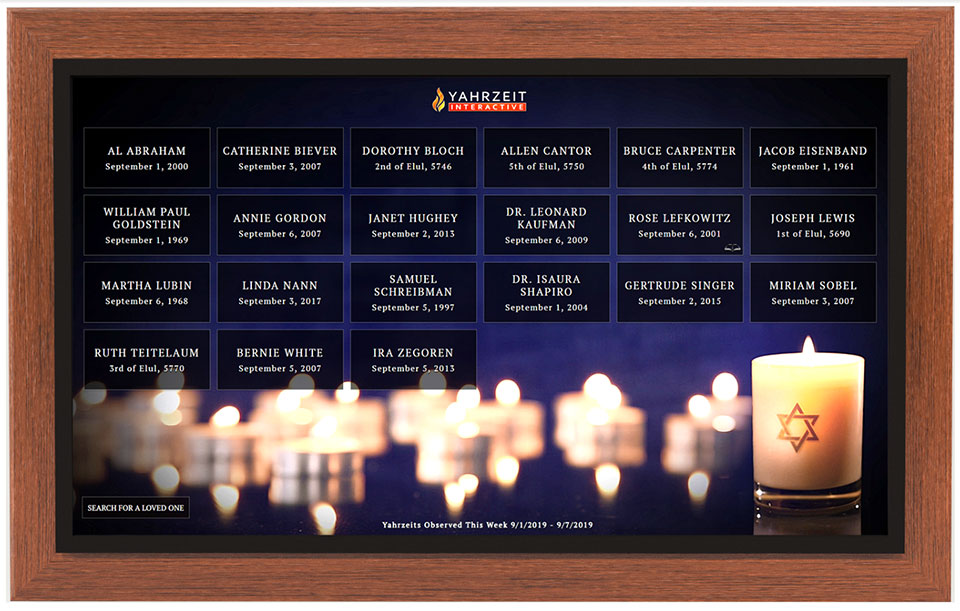 Our displays perform all the functions of a traditional memorial wall and much more. Photographs, biographies, and an easy-to-use search feature make remembering loved ones a deeply moving experience.

The Dash Between the Years
A life is immeasurably more than the tiny dash set between a birth date and death date on a plaque. Between those two dates is everything that made somebody special. Yahrzeit Interactive allows your congregants to share all those precious, meaningful details with your entire community.

With our virtual memorial wall you can simply touch a name and discover more about that person… what made them unique, what history they lived through, what they gave to their family, to their community, to the world. It's a beautiful way to not only honor loved ones, but to inspire for generations to come.
ADDITIONAL FEATURES
The Yahrzeit Interactive software system also provides a number of additional features:
- Easily display your virtual memorial on your website.
- Automatically send customized Yahrzeit Reminder Emails
- Print Yahrzeit Reminder PDFs and weekly Yahrzeit Lists
- Customizable Backgrounds, Layouts, Dates and More
- Optional virtual donor wall integration

Option #2 - Virtual Memorial Wall Classic