Home
»
Laser Cutting/3D Engraving
Laser Cutting and 3D Engraving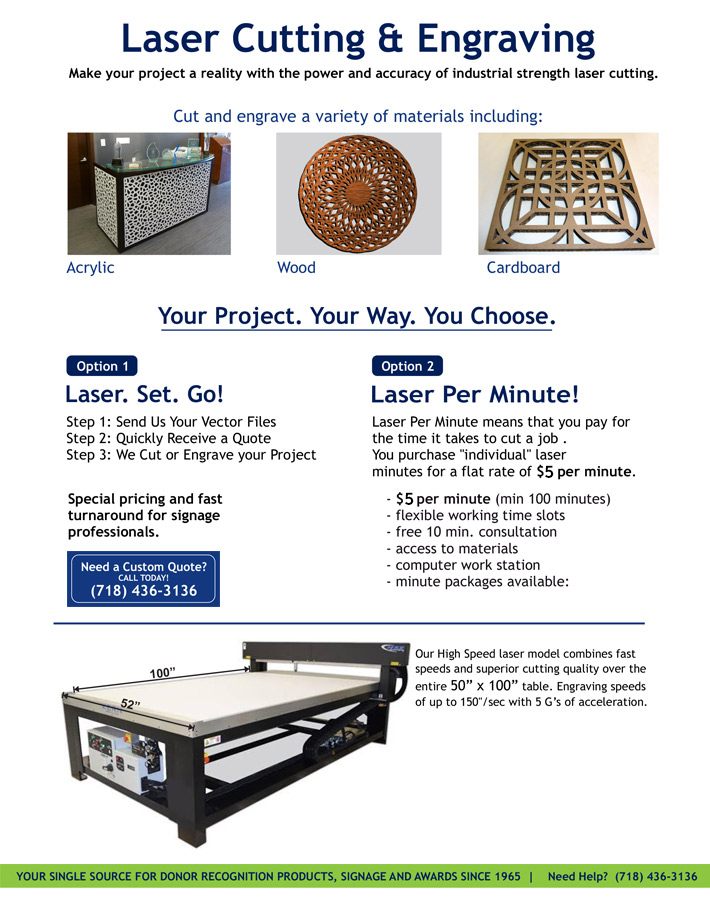 50" x 100" Laser Cutting and Engraving
Laser Engraving Machines specialize in creating 3D images on a variety of materials. Our 3D engraving technology has opened new avenues for artwork to be displayed on woods, acrylics and even specialty materials like IKONMetal.

The Process
Designing 3D images takes some time but the end results will be breathtaking. The key to 3D laser engraving is to understand the software you are working with. You need to be able to shade your drawing in gray to give the depth desired in your image. The grayscaled drawing to the right previews what a laser ready 3D image should look like. Kern's KCAM laser software is one of the very few on the market which will accept true 8-bit or 256 different colors of gray for resolution. That means there are 256 different power levels from black to white, which correlates to the 256 different levels of gray between black and white.
Laser Engraving Technology
Laser engraverLaser engraving, etching and marking with a sealed CO2 laser engraving machine has opened new avenues for artwork to be displayed on wood, acrylic, marble, glass, chrome, granite, Corian® and even on coated metals.
The process can be as simple as taking your artwork, and printing it to the laser using our custom printer driver. 2-D laser engraving can be effectively achieved at full speed on our laser systems. The resolution used to laser engrave will determine the quality of the finished artwork. Typically the Kern Laser Engravers use 300 - 600 DPI (dots per inch) while engraving.
Marking: leaves a contrasting color on metals by application of a water-based chemical.
Etching: removes the surface of the material, no depth of cut.
Engraving: removes material giving depth of cut.
Resolutions from 50dpi - 1200dpi are also commonly used. Laser engraving speeds are determined by the material being engraved, the size of the part being engraved, the depth desired and the size of the laser that is used. Our laser engraving machines can be customized to fit your application needs. co2 large format laser engraving equipmentLaser etching photographs into mirror, wood, marble, glass and other materials can be done effortlessly. Special software is available that will automatically convert gray scale image into a .tif file with the best resolution for the material being used. Photographs with good contrast between the image and the background work the best to engrave. Metal can be marked and etched with a CO2 laser. Water-based chemicals are available to coat the metal and will leave a semi-permanent mark where the laser beam has touched the surface of the metal. Some metals that can be marked are aluminum, carbon steel, stainless steel, chrome, brass, copper, nickel and tin. Anodized finishes on metal can be removed easily without any extra steps. Many colors are available.
A Laser Engraving System can be used for:
3-D Engraving in Wood
3-D Engraving in Plastic
Mirror
Plastic Signs
Photos in Wood
Marble
Trophies and Awards
Apparel Buttons
Humidors, Gunstocks
Granite Plaques
Wall Plaques
Pens, Pencils
Giftware, Ornaments
Glassware
Bricks
Funeral Urns
Baseball Bats
Footballs
High Speed Engraving Machine
150 Watt CO2 Metal Cutting Laser