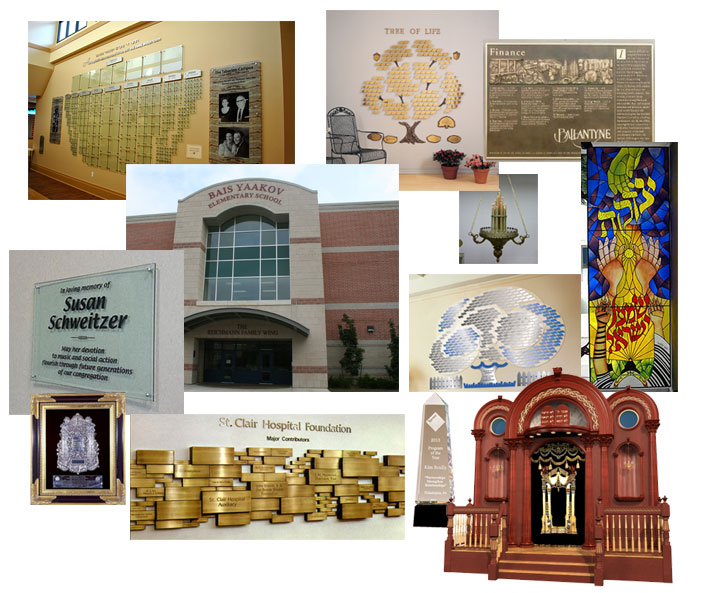 Have you ever received a handsome contribution? Perhaps someone donated a wing of your building, a classroom, or library. Maybe an employee reached a pinnacle of his career. You wish to recognize, commemorate, thank. And you want it to last forever. Do what hospitals, colleges, synagogues, schools, and other fine institutions have been doing for decades...............ENGRAVE IT
Show Your Gratitude
At Judaica Engraving International, we have been designing the finest donor recognition walls and products since 1965. Leaders in design and workmanship, Our Plaques and Walls grace the finest institutions worldwide. From employee recognition awards in corporate offices to crystal awards at annual organizational dinners to bronze dedication plaques in hospitals schools and synagogues.
Donor Walls and Tree Plaques for Synagogues
Every synagogue, temple, sanctuary, school and hospital nursing home, corporation, non-profit organization, sports tournaments, camp, and church has dedications that are represented on donor walls and doors. Judaica Engraving International can create the perfect wall,sign or award on a variety of materials, including, marble, wood, bronze, brass, glass, corian, lucite, acrylic or anything imaginable. We can custom design any of the following for your institution. If you need more information please check out our donor wall article section to learn how donor recognition products can help your cause.
If you are in looking for the most appropriate way to honor your employees or donors then contact us today.